(Please note this diary has been republished and edited. at the request of readers)
(Written by an American expat living in the European Union) As an MBA in marketing I have developed this eccentric habit of watching international ads and I have discovered something, the rest of the world sells things differently to their people than we do. I call them selfless ads which don't sell anything in America according to Madison Avenue. So it is I stumbled across a selfless ad in Thailand made by a life insurance company. Now doubtlessly some troll will say I am trying to hawk Thai life insurance at the Kos. In fact that could only be the case if you want to move to Asia, as that company doesn't even do business in the US. But dealing with trolls isn't the point in this diary. My question is why doesn't selfless sell in America? Why have we in America become so different that we have been conned into believing self before service and prostrating ourselves before the altar of Wall Streeters.

Why does this sell in Thailand but not America? Are we less human than the Thai. Do we care less about people, each other. Why is it we care so little about being liked so much in America. Why is it that the feelings that money can't buy aren't valued, aren't considered to be made in America goods. Do we really believe that he who dies with the most toys wins! Is this how we're able to tolerate being the only major industrialized nation in the world that doesn't have paid job protected maternity leave the law of the land. Is this how we tolerate being the only major industrialized country in the world that doesn't have universal access to medicine. How is this possible?
Is this how we're able to have the highest mass incarceration rate per 100,000 of any country on earth. Is this why we're able to spend essentially more on military than most of the world combined. Is this why we can live with 45 million people on food stamps. Is this why we're able to step over our homeless vets. Is this how we can tolerate our kids having to move home to live in their parents' underwater mortgaged homes basement, where Wall Street has drowned them in student debt. (Europe asks American Atlantis,with $1.2 TRILLION in underwater mortgages why don't you STOP paying?)


(Please note: With all of this military spending, on-base grocery stores in America accept food stamps which means too many military families are dependent on a poverty program to get enough food. What kind of America has this become?)
-----------------------------------------------------------
Let's remember that one of the reasons many people join the U.S. military is because employers by law unlike every other highly industrialized country (in the western European Union) aren't required to provide paid sick leave by right of law. Is this why 60 million people have no paid sick leave in America? Is this why American employers can get away without offering any paid sick leave. Is it because Americans uniquely in the world pursuing a rugged cult of brainwashed individualists think they are an island onto themselves, that it doesn't take a village to raise children? How is it possible to deprogram human beings to such a retrograde callous state of unfeeling indifference to the human condition and suffering of others? Aren't we all part of the same one? Don't we all bleed red? Don't we have the same needs and fears? How can we allow others to dehumanize us? When this happens, doesn't it diminish us all? Who could ever be proud of such a thing by covering it in a blanket of rugged individualism, as if we're all living in the pioneer days of 1860 instead of the year 2014.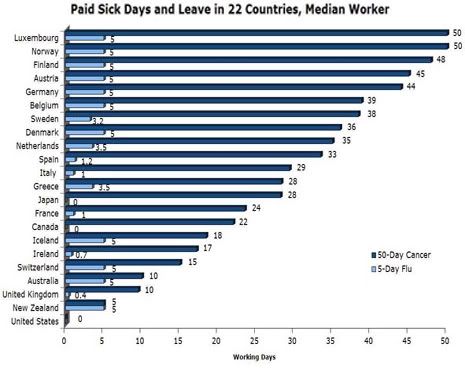 That libraries as the last, best fully socialized institutions in America are being rapidly de-funded, so we can all go buy ebooks, where 63% of all prison inmates are illiterate and 85% of juveniles who have contact with the criminal justice system are likewise functionally illiterate. That institutions like the library who support literacy are rapidly being de-funded nationally.
Here in Germany as is the case of most of rest of the European Union people get 30 days paid vacation by law, even if they are low wage fast food workers. They get complete medical and dental and get paid maternity leave, paid sick leave. They get a 13 months wage Christmas bonus for the most part. University and college education is so low priced that it is almost free. That is to say American students spend more on textbooks annually than do German students on tuition. They have unemployment insurance that when it runs out switches to unemployment insurance 2 Hartz IV that never runs out. Imagine that? Unemployed workers also get complete medical and dental to include a prescription plan for them and their families.
So the Germans ask how is it that America cannot afford any of these things for its workers, but the US government has plenty of money to fund US spying by the NSA on millions of German people to include the cell phone of Angela Merkel , who Forbes listed as being the most powerful woman in the world.Out of a German economy which is considered to be the world's number 2 exporter nation right behind China. As such has become the richest country in the EU with massive investment of billions of Euros in high speed rail networks, clipping along at over 300 kilometers an hour. Whereas American trains run on tracks that are designed to move at 1950's speeds with crumbling critical infrastructure, but the really important thing here is as we are all rugged individualists, who hate government because government is inept and wasteful and cannot therefore be trusted, which is really code talk for only the rich can be trusted to run America. So now let's go give the Koch brothers a big pat on the back. So it is that I will end on the question I started with, which is why doesn't selfless sell in America? How did we get conned into this rugged cult of individualism, when it is only in working collectively we can leverage economies of scale. So it is that the Germans pay 9% of GNP for medical, cover 100% of the population and live longer than we do in America, while paying less as in America we pay about 16% of GNP while at the same time don't cover medically 59 million people. Yes I know Obamacare will change this, but we are not there yet at covering all of the 59 million uninsured. Then of course there is the danger even if we ever got there, that the pendulum will swing to the right come next election and we will lose all the ground gained, as the Republicans are always threatening to repeal Obamacare, which seems not to fully address dental issues. (I knew I had to leave America when I was no longer able to go to the county fair.)
If there is anything we as Americans can depend on as working class people, it must be each other. For if we don't firmly stand together surely we will all fall apart.
After the Koch brothers have taken everything from you, the last thing they will try to take from you is your dignity, I say don't give it to them. You're too special for that. Keep smiling that special smile that is uniquely you. Don't let them push you into callous disregard for our fellow human beings at home and around the world. Stay who you are. Be proud of your humanity and everything that makes you a good person because in the end that will be the only thing valuable enough to remember us for!
--------------------------------------------------------
Please feel invited to follow me on Twitter or the Daily Kos.
Follow @demsramshield
Daily Kos: Democrats Ramshield
http://www.dailykos.com/...
My email address: democratsramshield@yahoo.com